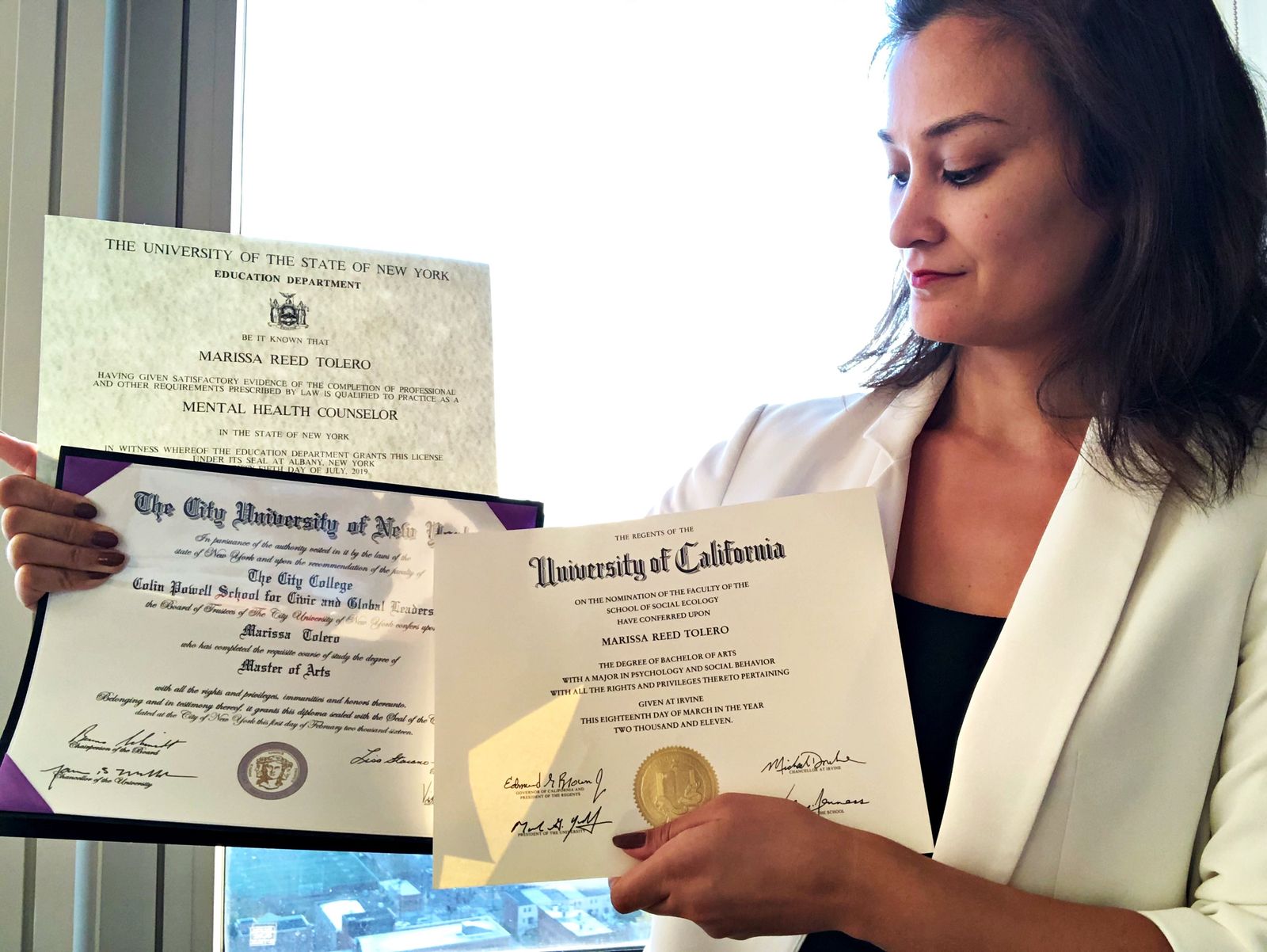 As I said in my Instagram post about this, I absolutely do not measure self-worth or intelligence by education or credential. With this said, I am extremely proud of these three pieces of paper (Bachelor's, Master's, and license to practice therapy). They represent the blood, sweat, and tears (okay, maybe just the sweat and tears) that I've put into my career. They symbolize the support I am now qualified to give to others, a dream of mine since I was first the recipient of mental health services. These took twelve years of my life to obtain, from the ages of 18 to 30, and I am celebrating now. I celebrate you, too, and all that you've accomplished in the last decade and beyond!
What is one accomplishment you're proud of from the last decade?
I could write an entire book about this one: all the warning signs, the realization and understanding, the fear, the bravery. It took me six years to fully understand the situation I found myself in and how unhealthy it had become. Although I would not change that experience now, I do not express gratitude for it. What I am thankful for is the education I was given in my Master's program that helped me clearly identify the warning signs that I should get out. I am thankful for my friends and family who supported me in this decision and guided me in my grief and starting over. I am thankful for that moment of necessary detachment when I decided to turn around on my commute, go home, and end that relationship. Chat or call the National Domestic Violence Hotline if you think you might be in an abusive relationship.
What discoveries have you made about your relationships from the past decade?
I have been so fortunate to know many women throughout my life who have given me an example to look up to, a light to guide me, and a shoulder to cry on. Some of them are my family, some were roommates turned best friends, colleagues, bosses, mentors, travel buddies, and more. It is understated the importance of women finding other women they can absolutely be themselves around, who they can trust with their soul. Our world socializes women to be competitive and judgmental with each other, so when you can find others who you can be vulnerable with and fight the battles of life with, it is so, so powerful. I am so thankful that I have found my tribe of women, all over the country and world, who I can truly call my sisters in life.
Where have you found your tribe?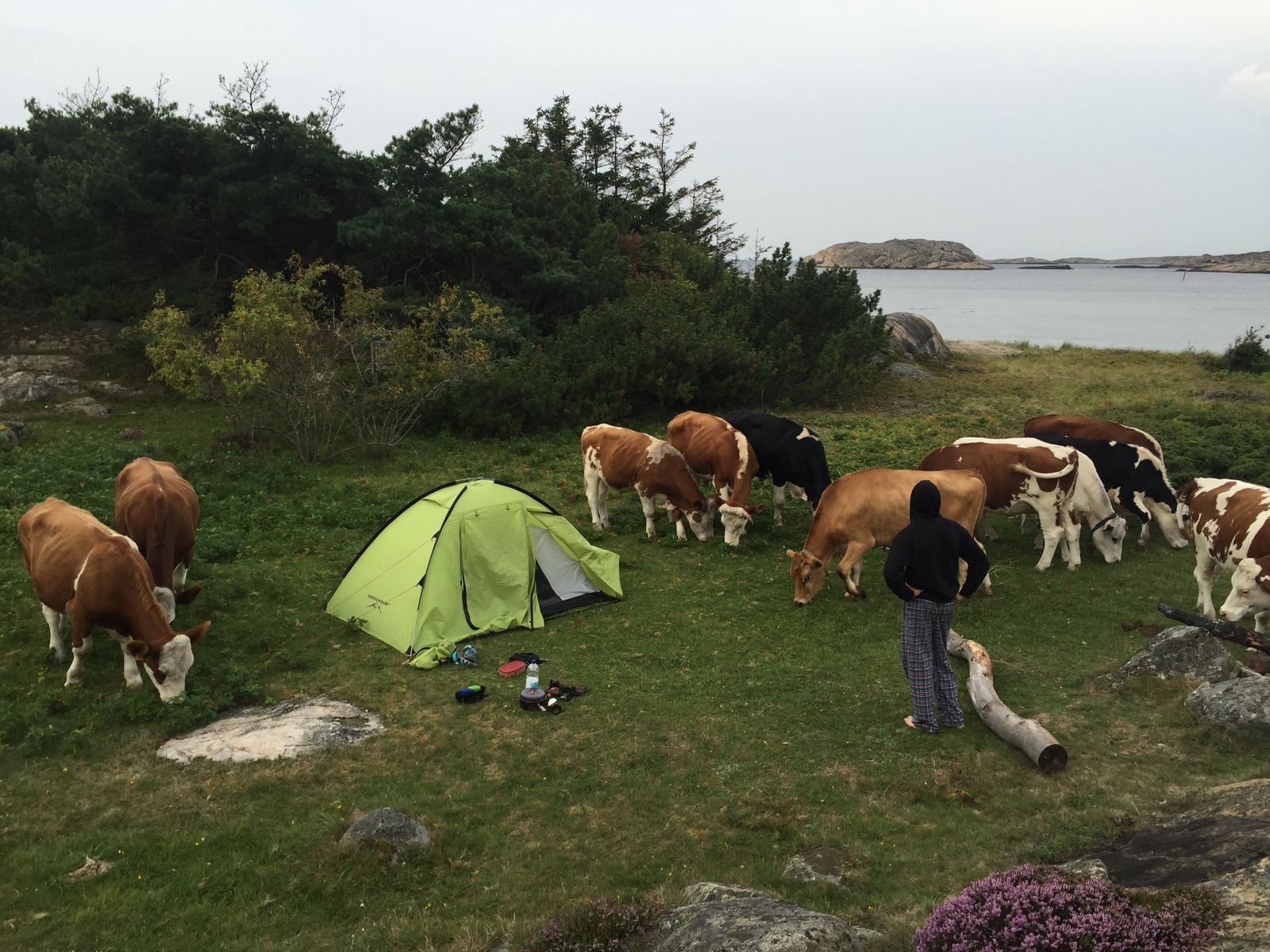 I was vegetarian for three years first and now I've been vegan for three years. I've always loved animals - so much so that I started the "No Animal Extinct Club" in elementary school. The decision was one of the best I've ever made in my life and I am living truly aligned with my value of doing as little harm to others as possible, which goes beyond humans. This life has led my partner and I to visit sanctuaries of rescued farmed animals and to appreciate their intelligence, love, and social and emotional lives. This picture is from a magical experience where we kayaked to an island in an archipelago in Sweden and woke up to a heard of cows outside our tent. We spent hours hanging out with them and realized how they are no different than the dog we have in our home.
What is one thing you have done in the last decade to live more aligned with your values?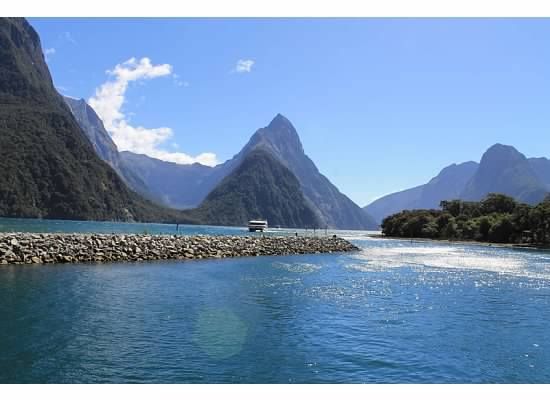 In early 2013, I was fortunate enough to spend five weeks camping through the country of New Zealand. It had been on my bucket list for years and I finally saved enough money, quit my job, and went on this adventure. It is still the most beautiful place I have ever been. Since humans didn't even arrive to the land until the 1300's, it remains one of the youngest countries to civilization. This means that so much of the country has been untouched and the locals hope to keep it that way. I felt like I had literally gone to a new world and the freedom and energy in that was breathtaking every day of the trip.
What's a bucket list place to visit for you?
There's no way I could go through these thirty days without mentioning my family. They have supported me in every crazy and difficult decision I've made, going back to when I left home at 18. My earliest memories are, not surprisingly, with my family and, as with most, most of my ethics and morals that guide my life stem from what I learned from them. The journey with my family has not been perfect, nor should it be, but I have learned the Do's and Don't's of life and they continue to keep teaching me today. Regardless of the relationships we have with our families, it is often with them that our launching pad of life begins.
What is the greatest lesson your family has taught you?
I have been writing since I was a kid. In fact, it's one of the earliest coping skills I developed. Of course, at the time, I didn't have any idea that's what it was. Writing has always been present in my life and finally in the last few years I have decided to take it more "seriously" and pursue an education in it. These are just writing classes here and there, but it is so wonderful and empowering to learn the hard skills and knowledge behind a craft I have been practicing for decades.
What is one passion of yours that you want to "take more seriously"?
Answer any and all of these questions by contacting me or answering the question in my daily Instagram story - I will be sharing highlights of your answers at the end of the month!